The latest issue of Slingshot (number 263, March 2009), the bi-monthly publication of the Society of Ancients, went to the printers last Monday. Apologies for the lateness of this issue. My understanding is that the issue has been delayed a further couple of days to accommodate the printing of membership cards, which are enclosed with the magazine, so it may be another week before it arrives with you. The incentive game is not included with this mailing and will be sent separately.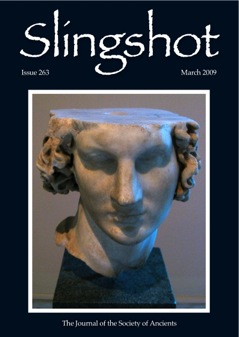 This issue is 60 pages long, not including the cover pages. It's published in the same format introduced with issue 258.
The contents of Slingshot 263 are as follows. For games articles, I've indicated the relevant rule set where it's not immediately obvious from the title; with historical articles I've tried to indicate period if a similar issue applies.
Cogadh Gaedhil: Medieval Irish warfare 600AD-1500AD, Part I, by Mick Hession
The Battle of the Granicus, by Patrick Waterson
Recent Reconstructions of the Battle of the Granicus, by Philip Sabin
"Oh merchant, how you use up silver!" (Mesopotamian Notes VI), by Alastair McBeath
Ambush at Callinicum 531 AD (The Case For Reliable Arabs), by Stewart Hey
The Longbeards, by Robert Heiligers
[DBA] Campaigns for Wargamers 7 – The Normans in Italy, by Paul Burton
[WAB] Thinking About Romans, by Adrian Goldsworthy
[AMW] Ancient and Medieval Wargaming, by Neil Thomas
Of Brushes and Bowstrings, by David Edwards
Honouring the Dead, by Edward Harvey
Plastic Alchemy Update 2008, by Andrew Lawrence
Book Reviews, by Marc Adda, Phil Barker & Will Whyler
Figure Reviews: 28mm Celts and Romans, Tibetans & Macedonian Successors, by Mark Watson
The Great Commanders at Milton Keynes Campaign: 9 -10 May 2009, by Graham Evans