The latest issue of Slingshot is 265, publishing date July 2009. The next issue will be the September issue.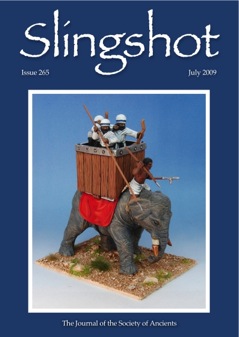 This issue is 60 pages long, not including the cover pages. It's published in the same format introduced with issue 258.
The contents of Slingshot 265 are as follows. For games articles, I've indicated the relevant rule set where it's not immediately obvious from the title; with historical articles I've tried to indicate period if a similar issue applies.
Guardroom
Cogadh Gaedhil: Medieval Irish warfare 600AD-1500AD, Part 3, by Mick Hession
Mallets and Mules, by Duncan Head
"When he crossed the seventh mountain range, his intuition led him to the cedars": Mesopotamian Warfare Notes VIII, by Alastair McBeath
Battle Day 2009 – Callinicum 531AD, by Richard Lockwood
Callinicum Piquet'd, by Adam Hayes
Callinicum 531 AD – Peter Pig's Conquerors and Kings & Warmaster Ancients, by Martyn Simpson
Callinicum, AD 531 – Armati II report , by Matthew Bennett
Callinicum Using Big Battle DBA, by Sue Laflin, Paul Glover, Ian Tanner, and David Latham
Callinicum in the FoG, by David Edwards
Callinicum 531 CE – Tactica II in Scotland, by Paul Innes
[ WAB] Thinking About Romans – Part Three, by Adrian Goldsworthy
[ Armati ] Magnesia, by Mark Grindlay
Crusader Army lists for the Peloponnesian War, by Craig Woodfield
[ Tony Bath Rules ] Back to the Jurassic, by David Barnsdale
Thracian Enhancements for Field of Glory , by Christopher Webber
The Battle of the Lyginus River, 335 BC: A Field of Glory Scenario, by Christopher Webber
Book Reviews, by Jim Webster, Anthony Clipsom & Mark Watson
Figure Reviews, by David Edwards, Richard Lockwood & Mark Watson