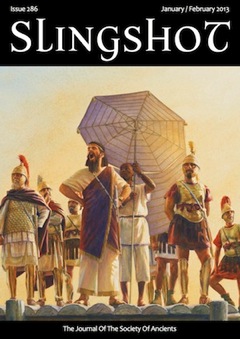 The current issue of Slingshot (number 286, January/February 2013), the bi-monthly publication of the Society of Ancients, is now available for individual purchases from
the Society web store
. Individual copies are in very short supply, due to the reduced print runs we are now running - less than 50 copies are available at this point to those who haven't taken out subscriptions. Get them fast as we won't be printing any more!
Slingshot 286 includes 52 full colour internal pages. The contents of Slingshot 286 are as follows:
Editorial: Slings & Arrows
Bill Thurlow in Memoriam
Championship 2012 report
A Short History of the Iberian Peninsula from 400 to 1100AD, Part 3: Visigothic Society, by Robert Heiligers
Transjordanian Tales, Part 3: In Dread of Judges, by Alastair McBeath
The Western Mediterranean Way of Warfare Debates, Part 1.2: The Western Mediterranean, continued, by Roy Boss & Mark Grindlay
Et Tu Brutii, by Nick Harbud
War, Games and Wargames: Part 1, by Richard Taylor
Turkish Travels at Westbury Wars 2012, by Gavin Pearson
The English DBA Open, 2012, by Martin Smith
Reviews, by Dave Gee, Duncan Head & Anthony Clipsom
For more information on the Society of Ancients, please visit
www.soa.org.uk
.
You can join the Society at
www.soa.org.uk/store
. There's also, alternatively, a special offer for a combination Membership + discounted "Conquest of Gaul" gaming set available
via our friends at Warlord Games
.