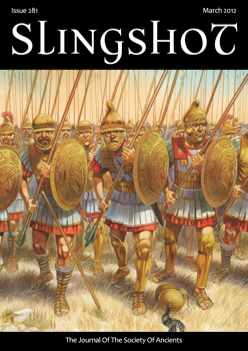 The latest issue of Slingshot (number 281, March 2012), the bi-monthly publication of the Society of Ancients, has gone to the printers.
The contents of Slingshot 281 are as follows
Editorial: Slings & Arrows
Guardroom
The Seventh Crusade, by Keith Hawkesford
The Role of the Master of Dragons (Part 1), by Jim Sye
East Roman Cavalry Warfare and Tactics, c. 410-641, Part 3, by Ilkka 'Ike' Syvänne
Ruleset Round Table, Version 2.0, edited by Mark Watson
The Third, Fourth and Fifth Dynasties of Ur will Emerge Victorious!: the 2011 Victorian Field of Glory Championship, by Steven Neate
Figure Reviews, by Aaron Bell & David Edwards
Book Reviews, by Mark Watson
For more information on the Society of Ancients, please visit
www.soa.org.uk
.
You can join the Society at
www.soa.org.uk/store
.