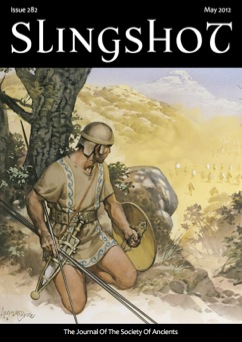 The latest issue of Slingshot (number 282, May 2012), the bi-monthly publication of the Society of Ancients, has gone to the printers.
The contents of Slingshot 282 are as follows
Editorial: Slings & Arrows
The Butcher's Dog, by Edward Harvey
Carthaginian Citizens in Arms, by Jim Webster
A Short History of the Iberian Peninsula from 400 to 1100AD – Part 1: Prelude, by Robert Heiligers
The Role of the Master of Dragons , Part 2, by Jim Sye
Scramble - A Tale of Two Tournaments, by Martin Myers
DBA Competition Reports, by Martin Smith & Richard Pulley
Kadesh with Command & Colors: Ancients, by Andrew Lawrence
Very Very Little Wars: Experiments in wargaming with 6mm figures, hexagons and a spreadsheet, by David Kay
Exercitus: A Personal Rules Solution for Legion verses Phalanx, by Adrian Nayler
Book Review, Warfare in the Medieval World, Reviewed by Anthony Clipsom
Book Reviews, by Mark Watson
For more information on the Society of Ancients, please visit
www.soa.org.uk
.
You can join the Society at
www.soa.org.uk/store
.