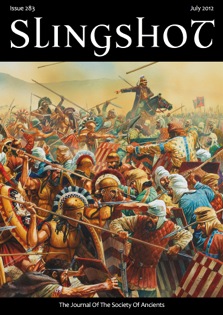 The latest issue of Slingshot (number 283, July 2012), the bi-monthly publication of the Society of Ancients, has gone to the printers.
The contents of Slingshot 283 are as follows
Editorial: Slings & Arrows
After Hannibal, by Julian Lorriman
A Short History of the Iberian Peninsula from 400 to 1100AD – Part 2: The Visigoths in Iberia, by Robert Heiligers
Numidian Armies, by Jim Webster
Plataea 479BC: Introduction, by Richard Lockwood
Battle Day 2012 Gallery
Modelling the Field of Plataea for Warmaster Ancients, by Ross Bigley
Plataea with Warmaster Ancients., by Jeremy Giles
Plataea With Armati, by Will Whyler
Plataea With Command & Colors: Ancients, by Mark Richards
Plataea With DBMM, by Toby Partridge
Plataea with Lost Battles by Philip Sabin
Plataea with Warlord & War and Conquest, by Trevor Halsall & Rob Broom
Plataea with Tony Bath's Peltast & Pila, by Daivid Barnsdale
Painting an Etruscan Hoplite, by Jamie Welling
For more information on the Society of Ancients, please visit www.soa.org.uk.
You can join the Society at
www.soa.org.uk/store
.