The latest issue of Slingshot (number 264, May 2009), the bi-monthly publication of the Society of Ancients, just went to the printers. Apologies for the lateness of this issue.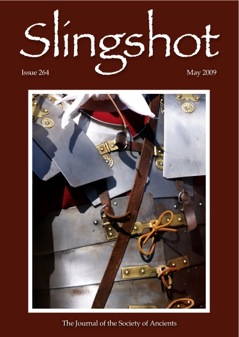 This issue is 60 pages long, not including the cover pages. It's published in the same format introduced with issue 258.
The contents of Slingshot 264 are as follows. For games articles, I've indicated the relevant rule set where it's not immediately obvious from the title; with historical articles I've tried to indicate period if a similar issue applies.
Guardroom
China & Nanhai, by John Walsh
Cogadh Gaedhil: Medieval Irish warfare 600AD-1500AD, Part Two, by Mick Hession
Xenophon's Chariot, by Jim Webster
"He traversed five mountains, six mountains, seven mountains" – Mesopotamian Warfare Notes VII, by Alastair McBeath
Constantius II, Ammianus, and the Big Parade, Part One, by Jim Sye
Putting it all together (The Sasanians re-examined), Part Three, by Doug Melville
Parthian infantry spearmen, by Nigel Tallis
New Works on Early Byzantine History from Bulletin of British Byzantine Studies, (35), 2009, by Jim Sye
Report on The English DBA Open 2008, by Martin Smith and Richard Pulley
[AMW] The Trebia in Sixty Minutes – Promoting the Society During Summer 2008, by Graham Evans
DBMM at Britcon 2008, by Chris Jolley
FOG or Mist: The Battle for Middle Earth, by Steven Neate
[WAB] Thinking About Romans - Part Two, by Adrian Goldsworthy
Ruspina, 46BC – Reconstructing a Battle the 'Lost Battles' way (part 1), by Gavin Pearson
Book Review: Britannia The Failed State, reviewed by Stephen Brennan
Figure Reviews: Baccus 6mm Sasanians, reviewed by Doug Melville
Figure Preview: Perry 28mm War of the Roses Plastics
More Book Reviews, by Mark Watson
As usual, I'm looking for more material in general and some game specific articles in particular, right now of the more popular systems Armati, FoG and Warmaster material would be good.