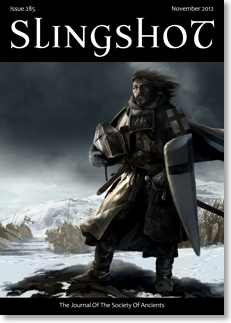 The current issue of Slingshot (number 285, November 2012), the bi-monthly publication of the Society of Ancients, is now available for individual purchases from
the Society web store
. Also now available (but in very limited supply - around 30 maximum!) are back issue packs for 2012.
Slingshot 285 includes 52 full colour internal pages. The contents of Slingshot 285 are as follows:
Editorial: Slings & Arrows
Guardroom
The Huns at Châlons: A debate between Roy Boss and Simon MacDowall
Horses, Spears and Trenches: The Battle of Loudoun Hill, 10 May 1307, by Anthony Clipsom
Transjordanian Tales Part 2: Moses in the Land of the Giants, by Alastair McBeath
The Western Mediterranean Way of Warfare Debates, Part One: The Western Mediterranean, by Roy Boss & Mark Grindlay
Coming to Dublin with Hostility, by Mick Hession
Götterdämmerung – DBM Battle Report, by Justin Swanton
Teutonic Indigestion, by Mark Fry
Fulford Gate 1066 – Hardrada's last victory, by Jonathan Jones
Battle Line Morale in "Day of Battle – the Middle Ages", by Chris Parker
Game & Figure Reviews, by Richard Lockwood, David Edwards & Mark Watson
Quick Armies, by Douglas Gold
For more information on the Society of Ancients, please visit
www.soa.org.uk
.
You can join the Society at
www.soa.org.uk/store
. There's also, alternatively, a special offer for a combination Membership + discounted "Conquest of Gaul" gaming set available
via our friends at Warlord Games
.